Distributed Control Systems (DCS) is being used to control a production plant or a process for over 40 years now. They were commercialized with the launch of TDC 2000 by Honeywell and CENTUM systems by Yokohama. Distributed control systems have been evolving since then. Here is the list of the top 10 leading players in the distributed control system.
Top 10 DCS Companies in the world
ABB – Switzerland
Honeywell – USA
Siemens AG – Germany
Emerson – USA
Yokogawa Electric -Japan
Rockwell Automation (Allen Bradley) – USA
Valmet – Finland
Schneider Electric – France
Mitsubishi Electric – Japan
Hitachi – Japan
All the above-listed are the top 10 DCS companies in the world that offer to almost all segments of industries.
Based in Zürich, Switzerland, ABB's process automation provides a range of services for process and hybrid industries, including its industry-specific integrated automation, electrification, and digital services, control technologies, software, and advanced services, as well as measurement & analytics, marine, and turbocharging offerings. Also, ABB is a pioneer in robotics technologies. ABB offers System 800xA and Symphony Plus DCS to various industry verticals including Oil & Gas, Chemicals, Refining, Mining and Metals, and Paper and Pulp.
Honeywell is one of the key players in the industrial automation industry. It offers a wide range of automation products that include: PLC, SCADA, DCS, variable frequency drives, HMI, and safety systems. Also, it is one of the most trusted manufacturers of industrial sensors and transducers. Honeywell offers Experion DCS systems to Oil & Gas, Chemicals, Refining, Mining and Metals, and Paper and Pulp industries.
Based in Germany, Siemens is the global leader in the industrial automation industry. It offers automation solutions to almost all sectors. Siemens has a huge workforce across the globe and a wide range of industrial automation products, that includes SIMATIC WinCC SCADA, SIMATIC S7 programmable logic controllers, PCS7 DCS and sensors, field instruments, and motor controls systems. Siemen systems are widely used in pharma industries and for power plant controls.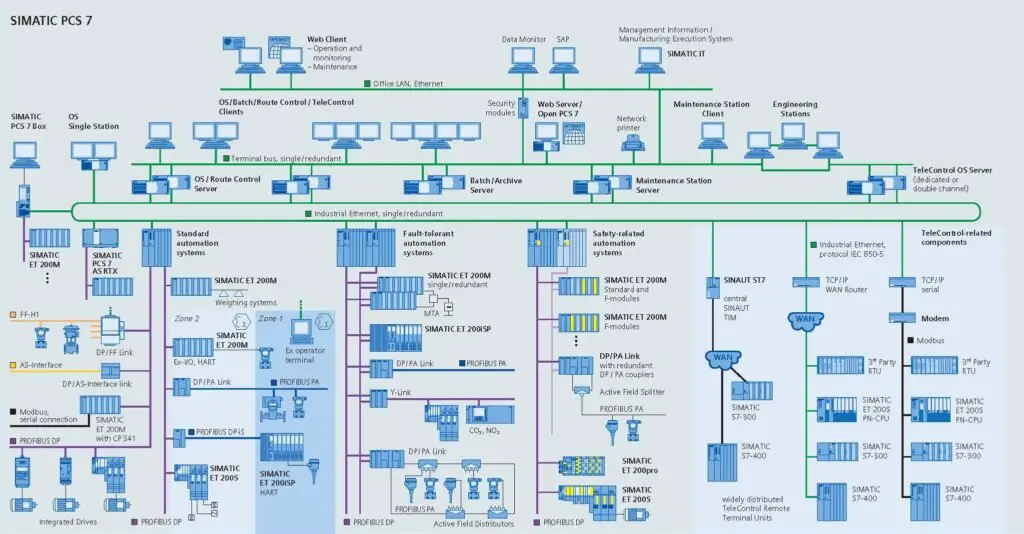 Emerson is one of the top 10 DCS companies that offer automation solutions to almost all industrial sectors. It is also one of the fortune 500 companies and is based in Missouri, United States. Its major products are DCS (Delta V, Ovation), industrial valves, sensors, transducers, and actuators. In 2009, it has acquired GE Intelligent Platforms (GE Fanuc). Currently, it serves Industries serving manufacturing, food and beverage, life sciences, power, oil and gas, mining and metals, water and wastewater, and specialty machinery industries.
Yokogawa is a Tokyo-based automation giant, that offers industrial automation solutions for Oil & Gas, Chemical industries, Power plants, Renewable Energy, Mining & Metal, pharmaceuticals, Food & Beverage, Pulp & Paper, Iron & Steel, Water & Wastewater management. In addition to DCS, PLC, and SCADA it also offers Pressure Transmitters, Flowmeters, analyzers, controllers, recorders, and data acquisition equipment. The DCS system offered by Yokogawa is Centum VP.
Allen Bradley claims themselves as the inverters on PLC. It was initially based in Ontario, Canada. In February 1985, Rockwell International took over Allen Bradley. At present, Rockwell Automation is based in Milwaukee, Wisconsin, U.S. and employs over 24000 people around the world. It offers products for safety, sensing, industrial control, power control, and motion control. The DCS system offered by Rockwell Automation is PlantPAx and it majorly concentrates on parma industries.
Valmet, formerly known as Metso, is one of the oldest DCS companies. The most interesting thing about Valmet is that it holds over 60% of the market share in paper and pulp automation systems and equipment. Apart from paper and pulp, they also provide DCS systems to renewable energy plants, water treatment plants and ships. The DCS system offered by Valmet is known as Valmet DNA.
Schneider Electric is a French Electrical and Automation company. It emerged as an industrial automation market player by acquiring several other organizations such as Modicon, Invensys, Citect, Foxboro, and Larsen and Toubro Automation. The DCS system offered by Schneider electric is EcoStruxure Foxboro DCS.
Mitsubishi Electric is one of the pioneers in industrial automation based in Tokyo, Japan. They offer distributed control systems exclusively for power plants. Mitsubishi Electric's DCS offerings are PMSX®pro and PMSX®micro.
Based in Tokyo, Japan, Hitachi is offering DCS for thermal power, hydropower, and nuclear power plants. The DCS system offered by Hitachi is HIACS.
Apart from the top 10 DCS companies listed above, there are many other market players. A few of them are Azbil Corporation, Novatech Llc, Toshiba International, Omron Corporation, Zat and HollySys.
Top 10 DCS systems
| S.No. | Make | Name of the solution offered |
| --- | --- | --- |
| 1. | ABB | System 800xA |
| 2. | Honeywell | Experion |
| 3. | Siemens | PCS7 |
| 4. | Emerson | Delta V, Ovation |
| 5. | Yokogawa Electric | Centum VP |
| 6. | Allen Bradley | PlantPAx |
| 7. | Valmet | Valmet DNA |
| 8. | Schneider Electric | EcoStruxure Foxboro |
| 9. | Mitsubishi Electric | PMSX®pro and PMSX®micro |
| 10. | Hitachi | HIACS |