Several operating indications can be seen on the front of an ACB or MCCB. Being an electrician or an engineer it is important that one must understand those indication and circuit breaker positions. Each of those indications has some critical information regarding the current state of the circuit breaker.
The following are the three most important flags that you must know:
Circuit breaker position indication
Contact state indication
Spring status indication
Circuit breaker position indications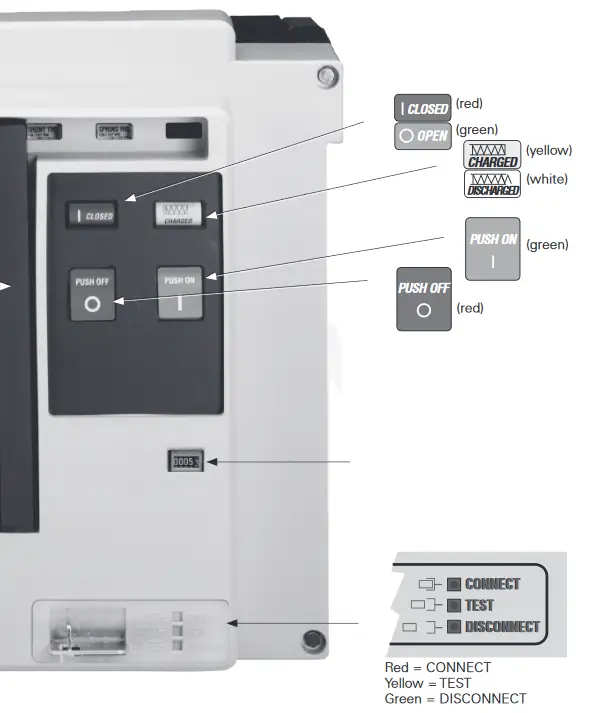 A draw-out ACB has a fixed part and a moving part. The fixed part, known as the draw-out cradle or chassis, is attached to the cabinet assembly, and the moving part which is the breaker body can be moved into or drawn out of the cradle. Indications are provided to indicate the positions of the breaker body inside to cradle in order to ensure safe operation.
Three different positions of moving parts are possible in relation to the fixed part:
Disconnected Position or truck-out position
The breaker body is inserted in the cradle without any connection between the power terminals and sliding auxiliary contacts. In this position the operation of the circuit breaker is prevented. The position indicator at the front indicates disconnected position. Switchgear compartment can be closed under this condition.
Test Position
When in the test position, the body is inserted in the cradle without any contact to the power terminal but the sliding contacts are connected to the control circuit. Circuit breaker remains operational for the offline test. Not contact is made with the power terminals. At this position the indicator indicates "Test".
Connected Position or truck-in position
Truck-in or connected position is the fully inserted position of the circuit breaker. The power and control contacts remain connected and the circuit breaker is operational. At this position, the indicator indicates "Connected".


Contact state indication
The contact state indicators indicates whether the circuit breaker is ON, OFF or trip.
ON State: Circuit breaker does not conduct.
OFF State: Circuit breaker in conduction mode.
Tripped State: Circuit breaker opened due to fault and do not. It is necessary to clear the fault before attempting to close the breaker again.
Spring status indication
For closing an ACB, its closing string must be charged. It is necessary to charge the spring before closing the breaker. Some ACBs can be changed manually, while some others have an electric motor inside that charges the spring when it gets a charging signal.
Indication are provided at the front of the circuit breaker, that indicates if the spring is charged or not.
Charged: The spring is compressed and the breaker is ready to close. The spring needs to be charged after every close operation.
Discharged: The spring is discharged. It needs to be charged again for the next operation either manually or electrically.