Circuit protection devices such as fuses and MCBs are used to safeguard any equipment from damages caused due to short circuits. The usage of these devices does not mitigate the chances of occurrence of a fault. But can help us prevent the undesirable aftermaths of the electrical faults. This article is about the difference between fuse and MCB and the advantages of each one of them over the other.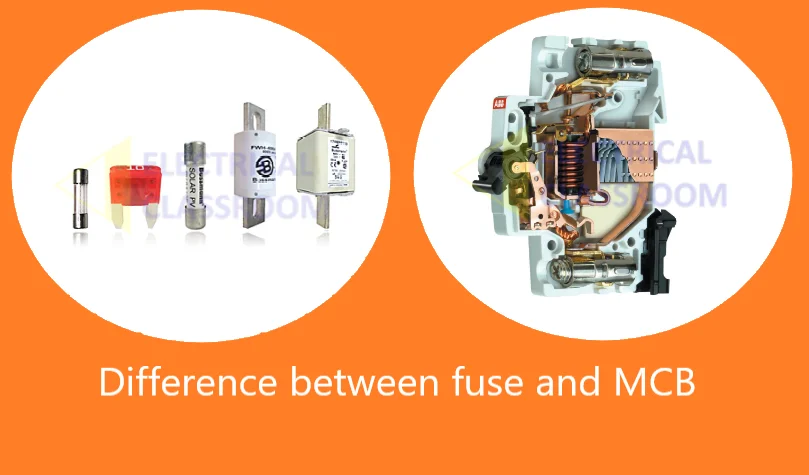 Electric circuits are vulnerable to various kinds of faults and short circuit are the highly deleterious ones. This is where MCBs and fuses do their job. Both do the same thing: interrupt the current flow to the circuit or equipment and safeguard the circuit from electrical hazards. But their principle of operation and capabilities are different.
Definition
Fuse is an electrical device that self-destructs and stops the current flow in a circuit whenever the current exceeds the predefined value.
MCBs are resettable circuit protection device that, on the occurrence of faults, stops the current flow in a circuit. They trip during short circuits, overloads and rarely during ground faults.
Principle of operation
Fuse
A fuse works based on the thermal property of materials conducting electric current. It consists of a metal wire or conductor material which can conduct a predefined amount of current through it. Whenever excessive current flows through the fuse, the conducting material inside it melts down and therefore the current flow through it is interrupted.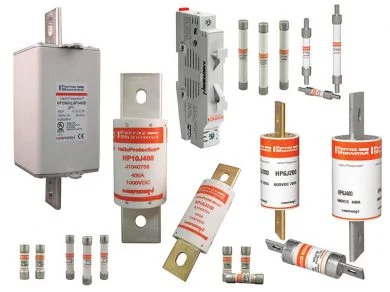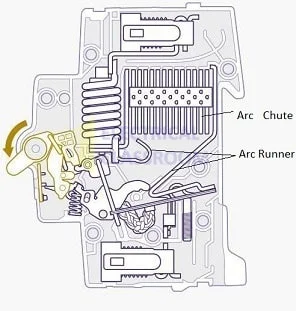 MCB
MCB stands for Miniature Circuit Breaker. It is an electromechanical device that works based on the electromagnetic as well as the thermal properties of the electric current. An electromagnetic mechanism present inside the MCB helps it to instantaneously interrupt the current flow during short circuits and the bimetallic strip present in it helps it to interrupt the current flow during overloads.
Speed of action
Fuses acts faster than the miniature circuit breakers. The operating time of the former during short circuits is 2ms while that of the later is 20ms.
Element used for tripping
Fuses consist of metallic wire normally made up of tin, lead, silver, copper, aluminum etc. which melts down on the event of faults. Miniature circuit breakers contain an electromagnetic core with plunger arrangement for short circuit protection and a bimetallic strip for overload protection.
Reusability
All types of fuses except the rewireable ones cannot be reused after fault clearance. MCBs can be reset and reused after they trip. MCBs can also be operated like a switch to interrupt power supply to the load.
Protective functions
Both fuse and MCB can protect from overloads and short circuits. Fuses acts faster than MCBs.
Application
There are a wide variety of fuses available in the market at various voltage and current ratings and can be used for the protection of almost all equipment, starting from small electronic circuits to heavy-duty electric motors. But MCBs are low voltage circuit protection devices. These are used for protection of lighting circuits, residential applications and industrial applications with short circuit current rating not exceeding 15kA.
Cost
Generally, fuses are economical than miniature circuit breakers.
Comparison of fuse and MCB
| Electric fuse | Miniature circuit breaker – MCB |
| --- | --- |
| Whenever excessive current flows through the fuse, the conducting material inside it melts down thereby interrupting the current flow. | An electromagnetic mechanism present inside the MCB helps it to instantaneously interrupt the current flow during faults. |
| Fuses other than rewireable fuses cannot be reused. | Miniature circuit breakers can be reused after the clearance of faults. |
| Fuses acts faster than MCB. Typical tripping time 2ms. | Tripping time for MCB is 20ms. |
| Can protect against short circuit and overloads. | Can protect against short circuit and overloads. |
| Cheaper than MCB. | MCB costlier than fuses. |